Athletics and Popular Extracurriculars at George Washington University
George Washington University's solid academic programs bring together a diverse group of the world's best and brightest students.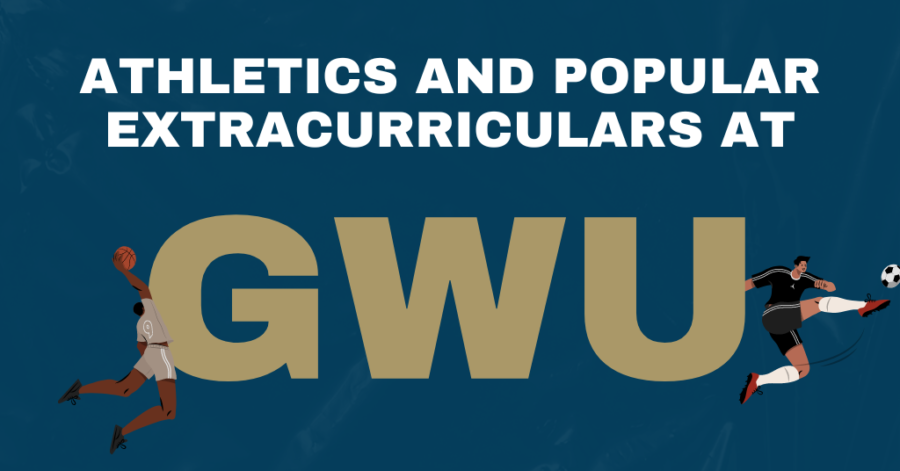 The university works diligently to encourage interactions and ongoing relationships between its diverse student body. Many students find that these interactions, and the opportunity to meet fellow students with backgrounds different than their own, are as beneficial as their coursework in gaining a better understanding of the world.

College athletics and student organizations provide some of the best opportunities for social involvement outside of the classroom. For new and returning George Washington University students interested in learning more about GW sports, social organizations, and clubs on campus, check out our overview below of athletics and popular extracurriculars at George Washington University.

What sport is George Washington University known for?
Men's basketball and soccer are two of the most popular sports at George Washington University. While the school is better known for its academic programs, GW offers 17 intercollegiate athletic programs for undergraduate students.
The men's athletic programs at George Washington University are:
Baseball
Basketball
Golf
Soccer
Swimming & Diving
Track & Field / Cross Country
Water Polo
Women's athletic programs at GW include:
Basketball
Gymnastics
Lacrosse
Rowing
Soccer
Softball
Swimming & Diving
Tennis
Track & Field / Cross Country
Volleyball

Is George Washington University a Division 1 school?
Yes, George Washington University is a Division I athletics program through the NCAA. However, it is a non-football member of Division I and does not participate in the Football Bowl Subdivision (FBS). GW is a member of the Atlantic 10 Conference (CA-10), which it joined in 1976 as one of its founding members. Despite its name, the A-10 comprises 15 colleges and universities in the mid-Atlantic, northeastern, and midwestern United States.
The schools represented in the Atlantic 10 Conference include:
Davidson College
University of Dayton
Duquesne University
Fordham University
George Mason University
George Washington University
La Salle University
Loyola University Chicago
University of Massachusetts
University of Rhode Island
University of Richmond
St. Bonaventure University
Saint Joseph's University
Saint Louis University
Virginia Commonwealth University
Like GW, most A-12 schools are private religious institutions, and enrollment among conference members ranges drastically from 1,800 students at Davidson College to over 35,000 students at George Mason University.

Who is GW's biggest rival?
GW's biggest rival is the George Mason University Patriots.
George Mason University is located in Fairfax, Virginia, making the two schools geographically close. Since both schools are named after historical figures in U.S. history and are located in the Washington, DC, area, their rivalry is known as the Revolutionary Rivalry.
The rivalry began in the 2013-2014 school year when George Mason University left the Colonial Athletic Association and joined the A-10, putting the two schools in the same athletic conference. Their rivalry extends to all men and women intercollegiate programs, with the George Mason Patriots leading the series in most sports.

How many clubs are there at George Washington University?
There are more than 500 official student clubs and organizations at George Washington University, and GW maintains that 87% of students are involved in at least one student organization on campus. The Division of Student Affairs manages student clubs at GW, which oversees Greek life on campus.
There is a formal process to create and maintain an active student organization at GW. Student group leaders must submit annual applications to the Division of Student Affairs to maintain the active status of their organization. Some groups must have a Staff Advisor, and the President and Financial Officer of the group must attend Officer Training Days and Excellence in Leadership Sessions hosted by the university.
While this process can be time-consuming, it helps ensure that student organizations are well run, add to the vibrancy of campus life, and maintain active membership among the GW student body.
The Division of Student Affairs categorizes all undergraduate student groups into one of 15 categories for ease in maintaining active lists of student organizations at GW and marketing the options available to new and incoming students.
The categories of student clubs at George Washington University are:
Academic
Advocacy & Awareness
Civic Engagement
Club Sports
Cultural & Ethnic
Faith-Based
Health & Wellness
Honorary
LGBTQIA+
Media & Publications
Professional
Recreation
Student Governance
University Spirit & Traditions
Visual & Performing Arts
What clubs are popular at George Washington University?
The most popular clubs at George Washington University are the Program Board, the GW Student Association, and the club sports programs. The Program Board is run through the Division of Student Affairs and is in charge of planning campus-wide events throughout the school year for the entire GW student body. This includes concerts, lecture series, comedy shows, and festivals.
The GW Student Association is the student government of George Washington University. Their responsibilities to the study body are to advocate, allocate, advertise, and assist on behalf of the student body. Given GW's appeal to students interested in government and public service, the Student Association is a popular student group.
Club sports are popular because they provide a recreational outlet for students who cannot dedicate the time to an intercollegiate sport.
While Greek life isn't as popular at GW as at some other colleges and universities, they are well represented on campus. For more information about Greek life, check out our past posts about fraternity and sorority life at GW.
Start your year off right at George Washington University
On and off-campus housing brings together students of all backgrounds and interests to further foster the college experience. For GW students looking for an off-campus apartment close to campus that adds to their college experience, there's no better option than Varsity on K.
Located at 950 24th St NW, Varsity on K is just three blocks from the Foggy Bottom-GWU Metro station and the north side of the George Washington University campus. It is within walking distance of most academic buildings.
Varsity on K offers modern studio, one, two, and three-bedroom apartments in a historic building that reflects the charm of the Foggy Bottom neighborhood. For information about pricing and availability, contact the Varsity on K team today at (866) 656-3764.